Preparing Lets for Family Tenants – Our Ten Furnishing Tips
Preparing Lets for Family Tenants – Our Ten Furnishing Tips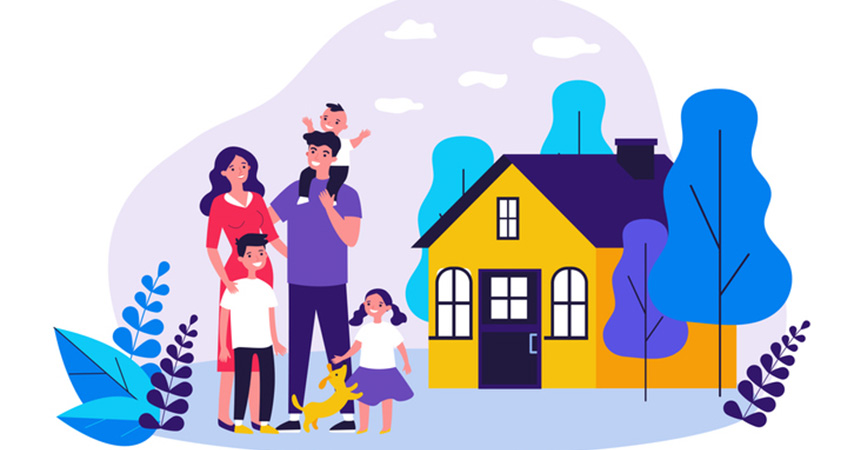 Landlords, if you want to let your properties to family tenants who will settle down and become long-term renters, then you should consider furnishing it to suit their needs. Families will be looking for a spacious let with a garden and will most certainly want to have the option to redecorate, so bear this in mind!
Our ten tips will give you some ideas to get you thinking along the right lines when preparing your let for family tenants…
The sofa
When choosing a sofa for your let, look for one that is both comfortable and sturdy. Having long-term renters will mean years of wear and tear.
As far as children are concerned, a sofa isn't just somewhere to sit and watch television – it's something to climb and jump on, and there's no telling them otherwise, so make sure that you invest in quality. We suggest going for comfort over style, but it should still look right in the property and fit the appearance of the rest of the room.
Dining area
Sitting down for meals together is an important part of family life. It provides time to catch up on each other's lives, especially as the children hit their teenage years and become more independent.
If your property has a dining room, you will want to measure up so that you can get a good-sized dining table. Be aware of the space needed for chairs as well. An extending table is a good investment, if you are short of space, as it can be adjusted as and when it is needed.
If there isn't a dining room, consider where you might be able to create a dining area. This will most likely be either at one end of the living room or in the kitchen, so you will have to decide what would work best. A circular table can often allow for more chairs, whereas a square or rectangular shaped table will fit better in a corner.
Bedrooms
Built in wardrobes are great space savers and they can provide rails for hanging clothes, as well as shelving.
In the master bedroom, the bigger the better for the bed itself, but make sure that there is space either side for a table and room to walk around from one side to the other. Another lovely touch is to place a linen chest at the foot of the bed.
Bathroom
A bath will be high on the list of families looking for a new home. From bathing the little ones to having some time to yourself, a bath certainly has its uses.
If there is no room for a separate shower cubicle, then have an electric shower box installed. Alternatively, you can opt for a bath with a built-in shower attachment.
Space under the stairs
If you have a room under the stairs, it may be worth converting it into an extra toilet room. Having another lavatory available can certainly help to avoid family frustrations.
Family-sized appliances
Certain appliances will need to be suitable for the needs of 3+ family members. This includes:
– Washing machine
– Dishwasher
– Fridge/fridge-freezer
If your let has a garage, then a chest freezer in there would impress any family that views your property!
Boiler
It is typically the landlord's responsibility to maintain and organise repairs for the boiler, so it is in your best interest to have a good one installed.
The quality of your boiler can affect the EPC (energy performance certificate) rating of your let, which must meet a minimum standard of E (A being the highest and G the lowest). The better the boiler, the more energy efficient your property will be, with other factors such as insulation and double-glazing also contributing.
A more energy efficient property will also mean lower bills for your tenants, which will be an additional selling point. The bigger the family, the more the boiler will be used, so this is an important one to consider.
Garden
A garden fit for family use should be mostly grass, if not all. Ball games and other lawn activities are a great way of getting the kids out of the house when the weather is nice.
To ensure that the garden is looked after properly, you could supply the property with a lawnmower and include a clause in the tenancy agreement requiring tenants to maintain the outside area. It would also be a good idea to invest in a garden shed to keep such equipment in.
Another option for properties with little-to-no space for a dining area is to include a table and chairs outside. This would be great for family meals during the warmer months. A wooden set that folds up would be simple to store in the shed.
Storage
Look for other ways to increase storage where possible. Think about divan beds or ones with drawers built into the frame. Putting up shelving pre-emptively will also allow you to decide exactly where they go and avoid any DIY mishaps by your tenants. In the kitchen, drawers that pull out on rollers will utilise cupboards that sit in the corners of the room.
Office area
Whether your tenants work from home or their kids need a space to settle down in and do their homework, an area containing a desk and office chair will set your let apart from the rest. Thoughtful touches such as this will show prospective tenants that you have considered their needs, which is a good sign that you will be a reliable and respectful landlord!
Show AND tell
Those who view your let will be able to see the amount of effort you've put into making this house a home, but we also encourage you to talk to them about the features of the property. Let them know that you have thought about what a family needs. This will highlight that you take pride in the presentation of your let and that you care about providing quality homes in the private rental sector. 
Welcome pack
One final way to prepare your property to welcome in a new family is to prepare a welcome pack that provides information on the area. This could include a list of local amenities, such as leisure centres, libraries and parks, as well as a map.
A nice personal touch would be to include your own suggestions of restaurants cafes and takeaways nearby that you would recommend. If you are not from the area, gather up reviews from social media pages and websites such as TripAdvisor. Moving can be stressful and time-consuming, so your tenants might be grateful for such a considerate gesture!
Disclaimer: The opinions and views expressed in the above article are those of the author only and are for guidance purposes only. The author disclaims any liability for reliance upon those opinions and would encourage readers to rely upon more than one source before making a decision based on the information.
Related Posts