20 ways to destress at home whilst you are self-isolating
20 ways to destress at home whilst you are self-isolating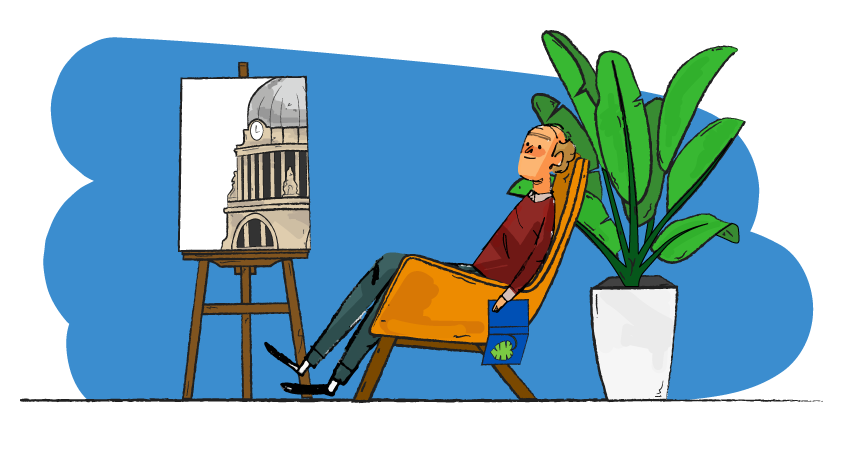 As it's National Stress Awareness month and we're limited to what activities we can access during self-isolation, here are 20 ways to destress from home:
1. Spend time in the kitchen
Now is as good a time as any to hone your culinary skills. Of all the ways to destress, this has to be our favourite. With plenty of websites providing free recipes, you've got no excuse. There's BBC Good Food and All Recipes, to name a couple.
Pick a theme for the week and plan out something adventurous. For example, this could be a country's traditional cuisine or even the food from a favourite piece of fiction (see Heston Blumenthal for inspiration!)
2. Arrange themed nights
This goes hand-in-hand with the above suggestion. As well as creating themed food, you can consider dressing up for the occasion and playing music to set the scene.
Even if you live alone, you can use apps such as Zoom or Google Hangouts to join up with friends and family and have them take part remotely.
3. Play games online
Following on from the idea of spending time with others using an app, you can also play games. There are online subscription services from gaming companies such as Microsoft (Xbox), Sony (PlayStation) and Nintendo, that allow you to play multiplayer games if you have a video game console/computer. There is also the computer gaming platform Steam, which does not require a subscription.
Check your phone's app store for multiplayer games as well – you'll find a range of trivia and word games that can be played with friends or strangers around the world.
4. Take part in online quizzes
This is the trending lockdown activity at the moment, as it seems there is a quiz taking place almost every night. We've seen plenty of Facebook pages and groups hosting live videos with someone asking the questions. This can also be done using any other application with a video feature, such as Zoom or WhatsApp.
You can either play for fun or arrange a prize for the winner. We've seen restaurants give away vouchers for free meals to use once they are open again. Our team recently enjoyed a work charity quiz that provided digital Amazon vouchers as the prizes.
5. Fundraise
Whether you are currently unemployed, working from home or furloughed due to the outbreak, you might be looking for a way to help the situation.
You could set up a JustGiving page and ask for donations to a registered charity. Consider organising an activity to be sponsored for, like the inspirational Captain Tom Moore, who walked 100 lengths of his garden for his 100th birthday. As mentioned above, we organised a work quiz to help fundraise for our chosen charity.
6. Get crafty
If you have knitting needles, why not start a new project? YouTube is full of tutorials. The same goes for other crafts, such as crochet, card making and sewing. If you have the equipment and materials, give it a go! Consider what you have around the house that can be repurposed.
This in itself can make a great fundraising activity. How about asking people to sponsor you to knit a certain number of baby hats to send to your local neonatal unit?
7. Declutter the house
For those who now have extra time on their hands, sorting out your house is a good way to alleviate stress. It can provide light exercise and a feeling of control over your surroundings, which is important whilst we're restricted to where we can go.
Any items you decide not to keep might be useful for fundraising or with your crafts.
8. Deep clean
As it's now the time of year for a spring clean, you have the opportunity to be thorough and tackle those areas that you've been telling yourself you'll get around to later.
We have a helpful article that you may wish to use as a guide and a checklist.
9. Change up your daily exercise
Changing up your routine can help to destress, especially when it comes to exercise. If you have been doing the same walk for the past couple of months, then you could benefit from new scenery!
Use Google maps to find other walking or cycle routes nearby and go on a little adventure. If you have children (or even for fun as an adult!), you can create a simple scavenger hunt based on items you expect to find, such as a street sign, a post box, a bus time table, etc.
Skipping ropes and hula hoops are activities we've seen on the rise, which can be done in your own garden or inside if there's space. Also, for days when you wish to stay inside, workout videos are good ways to keep active.
10. Watch television
For the moments when you simply want to sit and relax, television is there for us. There are free 'on demand' services, such as BBC iPlayer, ITV Hub and All 4. These tend to have both TV boxsets and films available to watch at your leisure.
If you want to add a bit of purpose to your screen time, look online for a list of "top 100", or something to that effect, to work your way through. The Guardian's website has a few to choose from.
11. Read a book
Like with television and films, you could look for a list of suggested titles to read. A lot of libraries loan out free eBooks to those with a library card. Otherwise, set yourself the challenge of re-reading some of your favourites. If audiobooks are more your thing, you can consider subscribing to a service like Audible or find free ones on platforms such as YouTube and Spotify.
12. Learn an instrument
Do you have an instrument lying around that you never committed to learning? I ask because I do – an acoustic guitar that I claimed after a family member decided they no longer wanted it, and I'm yet to learn a single chord. But there's no time like the present!
Beginner lessons can be found on YouTube for a variety of different instruments. We've also seen mention of musicians offering free online tutorials to help pass the time, so it's worth keeping an eye on social media.
13. Sing
Who else feels amazing when belting out their favourite song? It doesn't matter if you are 'good' at it, as long as you are having fun! A karaoke night might be just what you need.
14. Dance
Stick on one of your favourite music videos and dance along. Again, even if you don't feel you're very good, it helps to loosen up and have some fun. It's all about releasing those important chemicals into your body.
15. Create art
All you need is paper and a pencil to get started. You may also have come across a number of long-forgotten art supplies during the declutter we suggested.
If you don't know what you want to create first, ask friends and family for requests. You can take photos of your progress to share with them.
On social media platforms such as Instagram, there are artist communities that suggest monthly challenges with a theme of what to create.
16. Write
Whether you prefer poetry, short stories or novels, writing is a useful way to relieve stress. You can capture your emotions as words on a page if you don't feel like talking to someone.
Like with our art suggestion, you will find online communities with suggestions for writing challenges. There are plenty of competitions to enter if that provides motivation for you.
17. Blog
A different kind of writing, blogging can be about capturing your own opinions in the form of reviews, creating a list of tips to help others or providing information on a topic that the blog focuses on.
Writing content to help others can give you a feeling of productivity and purpose.
18. Garden
We've had really nice weather in the UK recently, so I'm sure a lot of you have been in the garden.
Preparing the soil for new seeds and plants is another way of getting some light exercise. As well as a feeling of accomplishment, you can then look forward to seeing them sprout and grow! Just remember to keep them appropriately watered.
19. Grow plants inside
We don't all have a garden, so here's a suggestion for keeping plants inside. You can keep it simple and grow cress seeds using cotton wool pieces in a cardboard egg box. A little herb garden in a planter would also do well on a windowsill. If you live in a flat with a balcony, you can keep a grow bag there for fruit and vegetables with deep roots.
20. Plan for the future
Our final suggestion is to plan. If you like having something to look forward to, create a list of all the activities you might do once we are able to go out again. Local businesses, in particular, will be in need of your help when this is all over.
Here are some examples:
Going out to eat
Going to theatres
Playing escape room games
Visiting leisure centres
Visiting theme parks
Planning walks and picnics in new places
We hope these ways to destress either interest you or provide inspiration to try out your own ideas. If you would like to share some tips, leave a comment below or tag us on Twitter, Facebook or LinkedIn!
Disclaimer: The opinions and views expressed in the above article are those of the author only and are for guidance purposes only. The author disclaims any liability for reliance upon those opinions and would encourage readers to rely upon more than one source before making a decision based on the information.
Related Posts