Annual House Price Growth Hit 3.3% in July, Reports Halifax
Annual House Price Growth Hit 3.3% in July, Reports Halifax
This article is an external press release originally published on the Landlord News website, which has now been migrated to the Just Landlords blog.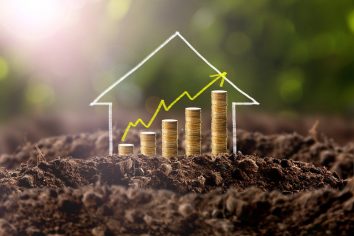 Annual house price growth hit an average of 3.3% in the three months to July, with the typical property value in the UK now standing at a record high of £230,280, according to Halifax's latest House Price Index.
On a monthly basis, the average price rose by 1.4% between June and July, while quarterly house price growth stood at 1.3% in May-July.
Housing activity
Halifax also reports that UK home sales fell by 3% in June, to 96,340. In the three months to June, sales were unchanged from the previous three months. The volume of residential property sales has been broadly flat over the past year, and is expected to remain so in the coming months.
Industry-wide figures from the Bank of England show that the number of mortgages approved to finance a home purchase – a leading indicator of completed property sales – increased by 1.4% between May and June, to 65,619 – the second highest monthly level seen this year. There are some encouraging signs for the housing market, with mortgage approvals up by 4.1% since April. However, demand remains weak, Halifax notes.
Similarly, new buyer enquiries have been flat or falling for 18 consecutive months, while agreed sales deteriorated between May and June. On historical figures, both sets of data point to mortgage approvals holding broadly flat until the end of 2018. On the supply side, new instructions, which had dropped for 26 consecutive months, have now edged up in the past two months.
Comments
Russell Galley, the Managing Director of Halifax, comments on the index: "House prices picked up in July, with the annual rate of growth rising from 1.8% in June to 3.3% in July – the largest increase since last November. The average house price is now £230,280 – the highest on record. House prices in the three months to July were 1.3% higher than in the previous quarter – the fastest quarterly increase, again, since November.
"While the quarterly and annual rates of house price growth have improved, housing activity remains soft. Despite the recent modest improvement in mortgage approvals, the latest survey data for new buyer enquiries and agreed sales suggests that approvals will remain broadly flat until the end of the year.
"In contrast, the labour market remains robust, with the numbers of people in employment rising by 137,000 in the three months to May, with much of the job creation driven by a rise in full-time employment. Pressures on household finances are also easing, as growth in average earnings continues to rise at a faster rate than consumer prices. With regards to the recent rise in the Bank of England base rate, we do not anticipate that this will have a significant effect on either mortgage affordability or transaction volumes."
The Founder Director of independent estate agent James Pendleton, Lee James Pendleton, also gives his thoughts: "Annual growth just exploded to a level not seen since the autumn, another traditionally busy moving period.
"This shift up a gear has undone much of the damage of recent months, with annual price growth having failed to keep pace with inflation in every month this year bar March.
"With two negative quarters behind us, many were hoping the usually busy summer period would produce a bit of a bounce, and this is a promising start.
"Buyers were seemingly happy to shrug off the possibility of a looming rate hike, as buyer incentives and low supply continue to play the dominant role in charging up the market.
"The market still needs a healthier flow of transactions, so it would be better for the numbers of homes changing hands to grow faster than prices. However, it is these demand-side carrots, such as the Help to Buy scheme and Stamp Duty relief for first time buyers, that appear to have the upper hand over rates and Brexit when it comes to winning the battle of sentiment that is playing out in people's minds."
Related Posts