Are you Aware of your Current Fire Safety Responsibilities as a Landlord?
Home » Uncategorised » Are you Aware of your Current Fire Safety Responsibilities as a Landlord?
Are you Aware of your Current Fire Safety Responsibilities as a Landlord?
This article is an external press release originally published on the Landlord News website, which has now been migrated to the Just Landlords blog.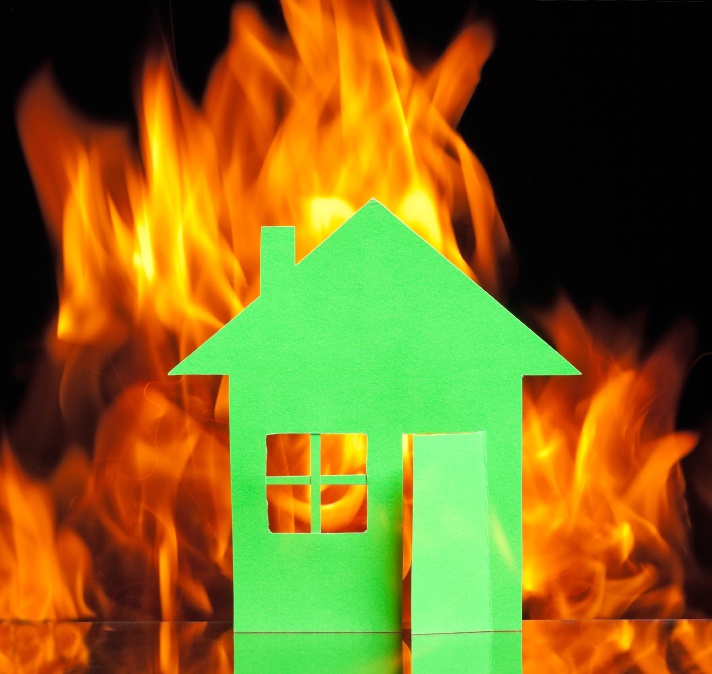 With fire safe regulations in the private rental sector expected to change in due course, landlords are being reminded to ensure that they're complying with their current fire safety responsibilities towards their tenants.
Following the recent Government-commissioned review into fire safety, Independent Review of Building Regulations and Fire Safety, which was conducted by Dame Judith Hackitt, it is predicted that the Government will introduce more stringent legislation to ensure that tenants have the highest level of protection possible in their homes.
Landlords may have to put more thorough safety measures in place and face harsher penalties if they fail to comply with the reforms.
Although the review concluded that the UK's building regulations are not "fit for purpose" and leave room for fire safety "shortcuts", we advise landlords to understand and comply with their current fire safety responsibilities, before any new rules are introduced.
Protect your tenants
All landlords should put their tenants' health and safety first, which includes keeping the property protected against fire.
Research shows that those who live in rented or shared accommodation are seven times more likely to experience a fire in their homes than those who don't. Landlords, therefore, must be aware of the dangers and be proactive in enforcing measures to prevent fires in their properties. This will also avoid you having to pay a hefty fine or face criminal proceedings.
Assess the risk
Understanding your fire safety responsibilities can be confusing, so it may be worth discussing your obligations with a professional and having a fire risk assessment carried out.
These reviews, which are conducted by experts, help you to put practical measures in place to reduce the risk of a fire and of a fire spreading if it does break out. Private rental sector regulations vary depending on the type of property you let, so an assessment will help to establish which laws are applicable to you.
Install alarms 
Following a consultation on property conditions in the private rental sector, legislation was introduced in 2015 that requires landlords to install working smoke and carbon monoxide alarms in their properties, or face fines of up to £5,000.
Smoke alarms must be installed on every storey of your rental property, while a carbon monoxide detector must be fitted in any room with a solid fuel burning appliance, such as a coal fire or wood-burning stove. Alarms must also be tested at the beginning of every tenancy.
We have a comprehensive guide to help you understand your responsibilities surrounding alarms: https://landlordnews.co.uk/guides/a-landlords-guide-to-smoke-and-carbon-monoxide-alarms/
Electrical safety
Faulty electrics can be a leading cause of fires in private rental properties, resulting in 16% of all accidental fires in the home. To help prevent these risks in the future, the Government has backed the idea to make electrical safety checks a mandatory requirement in the private rental sector.
However, did you know that you're already responsible for the safety of the appliances that you supply? As a landlord, you must ensure that appliances such as microwaves, kettles and toasters are regularly PAT (Portable Appliance Testing) tested. In addition, you must ensure that all sockets and light fittings are safe, as well as all wiring, fuses and circuit breakers.
Furniture and furnishings 
Every item of furniture that you, as the landlord, provide in a rental property must be fire resistant. This includes: sofas, beds, headboards, cushions, seat pads and any garden furniture that is used indoors.
If the furniture was bought from a reputable trader after 1988, it should be fire safe. To check, you should look for the permanent label on the item, which is likely stitched somewhere out of sight. The exceptions are mattresses, divans and bed bases, which are covered by British safety standard BS 7177; look out for this number.
Before any changes to your fire safety responsibilities are introduced, we urge you to understand and comply with the current rules. For a thorough look at your obligations as a landlord, read through our helpful guide: https://landlordnews.co.uk/guides/a-landlords-guide-to-fire-safety/
Related Posts