Generation Rent campaigners take Section 21 protest to Government's door
Home » Uncategorised » Generation Rent campaigners take Section 21 protest to Government's door
Generation Rent campaigners take Section 21 protest to Government's door
This article is an external press release originally published on the Landlord News website, which has now been migrated to the Just Landlords blog.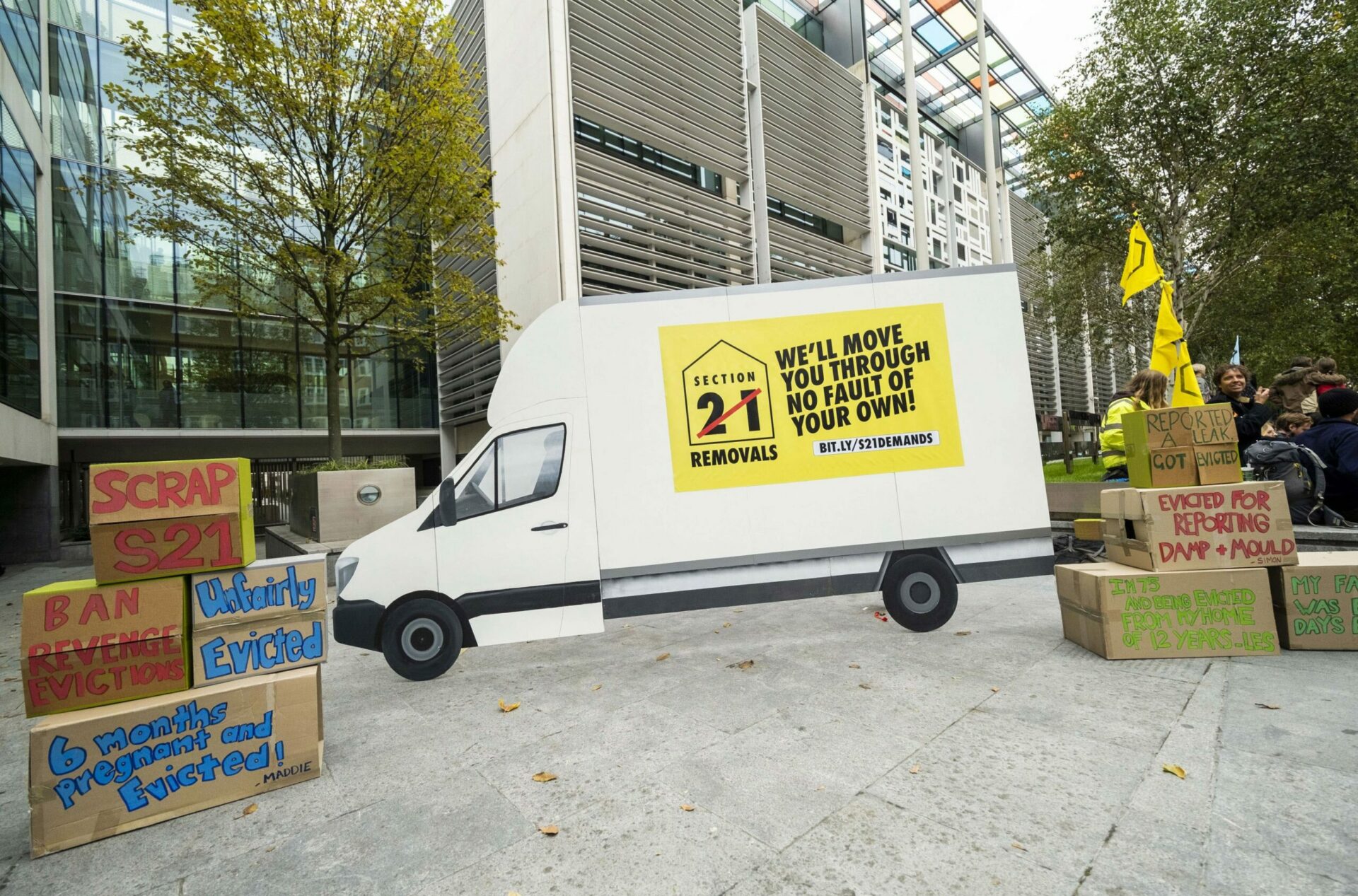 A campaign took place yesterday outside the Ministry of Housing, Communities and Local Government to highlight unfair evictions across England.
Organised by Generation Rent, London Renters Union and ACORN, these housing campaigners were protesting against the use of Section 21 eviction notices.
A consultation is currently in progress on the MHCLG's decision to end Section 21. However, under the current proposals, tenants could still be forced to leave their home if a landlord wished to sell the property or move into it themselves. Tenants are also not protected from unaffordable rent hikes.
Protesters are calling on the Government to end unfair evictions and provide support and security to tenants who are forced to leave their homes.
Over 40,000 signatures have so far been gathered for an open letter of demands to Boris Johnson and Housing Secretary Robert Jenrick. This has been organised by the End Unfair Evictions coalition.
Generation Rent highlights that Section 21 is the leading cause of homelessness in the UK. Its figures suggest that 216 families are made homeless by Section 21 every week.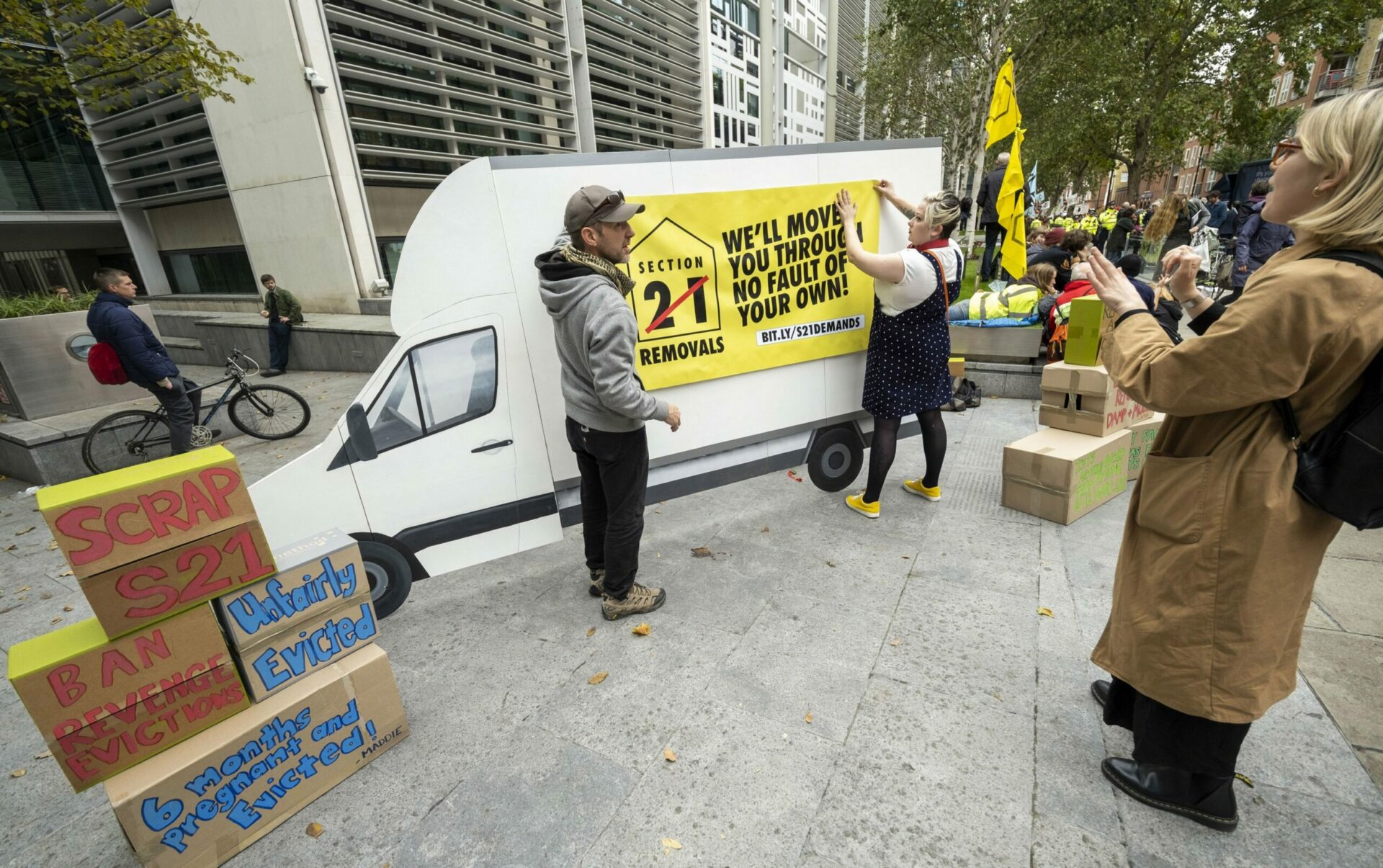 The notice allows unscrupulous landlords to use revenge evictions. Citizens Advice states that private renters in England who formally complain about issues such as damp and mould in their home have a 46% chance of being issued an eviction notice within six months.
An end to section 21 is just one of the radical reforms called for by campaigners to reform the housing system. Campaigners are demanding rents should be capped at one third of local incomes.
Georgie Laming, Campaigns Manager at Generation Rent comments:
"We all deserve a house we can call home. But Section 21 means private renters can be forced out of their homes for no reason at all, meaning we can't complain about disrepair or plan our lives. We need a radical overhaul of the private rented system.
The Government's proposed reforms are a step in the right direction but don't go far enough and will allow many unfair evictions to continue. Renters deserve a secure home, which is why we're demanding the Government take action to end unfair evictions for good."
Kirsty Archer, London Renters Union says:
"Londoners need a housing system that prioritises providing everyone with homes in which they can flourish rather than the profits of private investors. Ending these unfair evictions is a vital first step to fixing our broken housing system.
"Millions of Londoners live with the constant fear of eviction and the stress of unaffordable rent. Instead of looking at ways to maintain the power landlords have over our lives, the government must end evictions and introduce rent controls."
Jonny Butcher, ACORN National Field Director, said: "The government needs to choose which side they are on – families or buy-to-let investors. Genuine protection from eviction means that private tenants can lay down roots for the very first time without the fear of being forced to move every six months.
"If this government goes back on its commitment to end no fault evictions, they can expect a huge backlash from a growing movement of organised tenants across the country, as well as from an expanding renters' vote bloc at the next general election."
Megan Bentall, Campaigns Manager at 38 Degrees comments:
"It's not right that landlords can abuse loopholes in current laws to evict families from their homes – with no warning and for no reason. And if you're a family in this situation it's easy to feel like you're alone and powerless.
"That's why almost 40,000 people – renters, homeowners and landlords alike – have signed this open letter, in solidarity with families affected by the current laws. Together we're calling on the government to make sure their new law is fit for purpose, and protects renters across the country."
Related Posts