Government releases August House Price Index, revealing average up 10.6% annually
Home » Uncategorised » Government releases August House Price Index, revealing average up 10.6% annually
Government releases August House Price Index, revealing average up 10.6% annually
This article is an external press release originally published on the Landlord News website, which has now been migrated to the Just Landlords blog.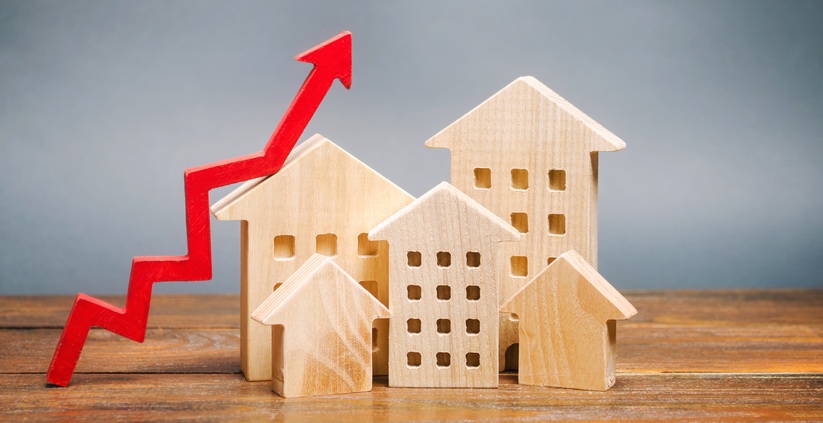 The average house price in the UK increased 10.6% year-on-year, according to the Government's House Price Index for August. The monthly price change was 2.9%.
The average house price was at £264,244 during August 2021, the report shows.
Alice Bullard, Head of Commercial at Nested, comments: "We continue to find ourselves in a dramatically different place compared to just 12 months ago with property prices still showing phenomenal levels of growth, driven by high levels of buyer demand.
"While mortgage rates remain at such affordable levels, we're unlikely to see any let-up in this tidal wave of activity that has washed over the market since it reopened.
"However, it looks increasingly likely that we could see an increase in interest rates as early as the start of next year. So those considering a purchase may want to act sooner rather than later to lock in the very best rates."
Marc von Grundherr, Director of Benham and Reeves, says: "Yet further proof that the drop in property prices following the initial Stamp Duty holiday deadline was merely a pause for breath in an otherwise marathon run of positive market momentum.
"There's little sign of this letting up and should an increase in interest rates materialise, the likelihood is that it will be fairly palatable for the average homebuyer. Therefore, we don't expect it to have any notable impact on the nation's insatiable appetite for homeownership and the market should continue moving forward at pace well into next year."
James Forrester, Managing Director of Barrows and Forrester, says: "The current state of the market is quite remarkable given what we've been through as a nation since the start of last year. Employment and wage growth have remained firm, mortgage affordability is still hovering around record lows and house prices continue to climb ever higher.
"As a result, buyers continue to mob the market and while an interest rate hike is on the horizon, we expect these factors to continue to stimulate positive house price growth for the remainder of the year.
"Forget about a shortage of HGV drivers, we need more estate agents to get us through until Christmas."
Colby Short, Founder and CEO of GetAgent.co.uk, comments: "A continued shortage of stock has seen the ball lie increasingly within the court of the home seller, as buyers fight it out to secure their ideal home.
"As a result, buyers entering the ring can expect some stiff competition that will see them pay close to asking price, if not more, in order to come away victorious.
"The best plan of attack is to be ready to act at a moment's notice and if you are a cash buyer, ensure the seller is aware that you sit in a far more favourable position."
Lucy Pendleton, property expert at independent estate agents James Pendleton, comments: "Just as you think the rally may be fading, London shows its true colours and delivers a trebling in the annual rate of growth. House prices in the capital have leapt almost £28,000 in a single month, showing that a return to normality has jolted the city back into life.
"The London market had been languishing in the doldrums in relative terms until now. It has been the poor relation, although the headline figures have masked pockets of intense fighting over particular properties in key areas.
"The capital's annual growth rate flew from 2.2% in July to 7.5% in August. That's quite a jump given that it's London's highest annual rise since the pandemic began, and the government Stamp Duty tax break that still prevailed here was nothing close to the scheme at its most generous earlier this year. The lettings market also continues to see fierce activity with the most desirable properties in each price band being taken off the table faster than sales.
"The capital has turned a corner and we expect the London market to now mount a charge and make up for lost time that saw the regions get all the fanfare over the past 18 months."
Nicky Stevenson, Managing Director at national estate agent group Fine & Country, says: "Just when you thought it was safe to predict the end of the housing boom, you get another dramatic spike in prices that no one saw coming.
"This data captures the final surge of the Stamp Duty holiday as buyers put their foot back on the gas to complete transactions before the end of the Chancellor's tax breaks.
"It marks a big turnaround from July's figures which showed a month-on-month dip. Suddenly we're back in high gear again, with annual price rises accelerating back into the double digits.
"Looking ahead, the country is now braced for an era of higher borrowing costs as the Bank of England looks to tame inflation. While this may stretch affordability for first-time-buyers, its effect on the wider housing market may not be as pronounced.
"Demand will continue to outstrip supply for some time to come as even the best planned new build schemes face excessive delays as a result of material and worker shortages. The housing boom just seems to rumble on regardless of forecasts to the contrary."
Iain McKenzie, CEO of The Guild of Property Professionals, says: "There are no signs that house prices are going to fall anytime soon and these figures show how property values have been inflated by surging demand.
"The underlying cause of this current wave of price rises is the shortage of stock available from estate agents. The number of properties available to buy started to dwindle after the first lockdown and this trend looks set to continue while demand remains high.
"Just as the end of the Stamp Duty holiday motivated a frenzy to buy, predictions of impending mortgage rate rises are also likely to spur on buyers. "These figures tell the story of the 'flight from the city', with London prices increasing at the slowest rate in the country and Scotland roaring ahead."
Related Posts