Students are Overpaying for Accommodation in most University Cities
Home » Uncategorised » Students are Overpaying for Accommodation in most University Cities
Students are Overpaying for Accommodation in most University Cities
This article is an external press release originally published on the Landlord News website, which has now been migrated to the Just Landlords blog.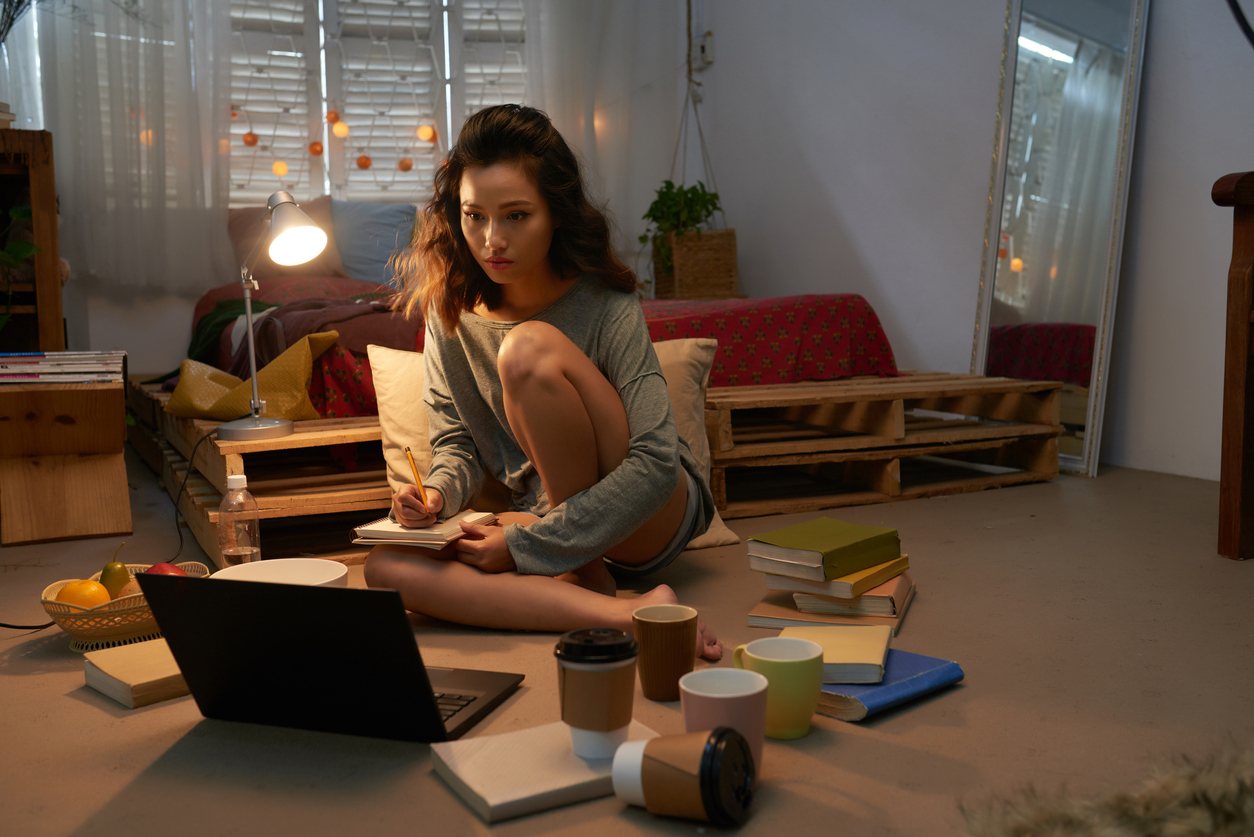 Students are overpaying for their accommodation in most UK university cities, according to new data from Mojo, an online mortgage broker.
The study found that those in Exeter, Norwich and Newcastle are the worst affected.
This January, university students will be looking to secure their accommodation for the next academic year. For many students, it's important that they find the perfect property, in a prime location, for a reasonable price.
However, students in some university cities could be forking out a lot more money for their accommodation, simply because they used a dedicated student letting agent.
Mojo compared the prices of rental homes listed on property portals, such as Rightmove, Zoopla and Prime Location, to those by specific student letting agencies.
Specifically, it looked at more than 30 four-bedroom, fully furnished houses in the most populated student areas of 19 UK cities. Generally, Mojo found that it was more expensive to use a student-specific service.
Students in Exeter fared the worst, overpaying by an average of £69 per person if they rented via a student letting agent. In close second and third places were Norwich and Newcastle, where students could be shelling out £62 and £59 more than they need to every month respectively.
Average cost per student, per month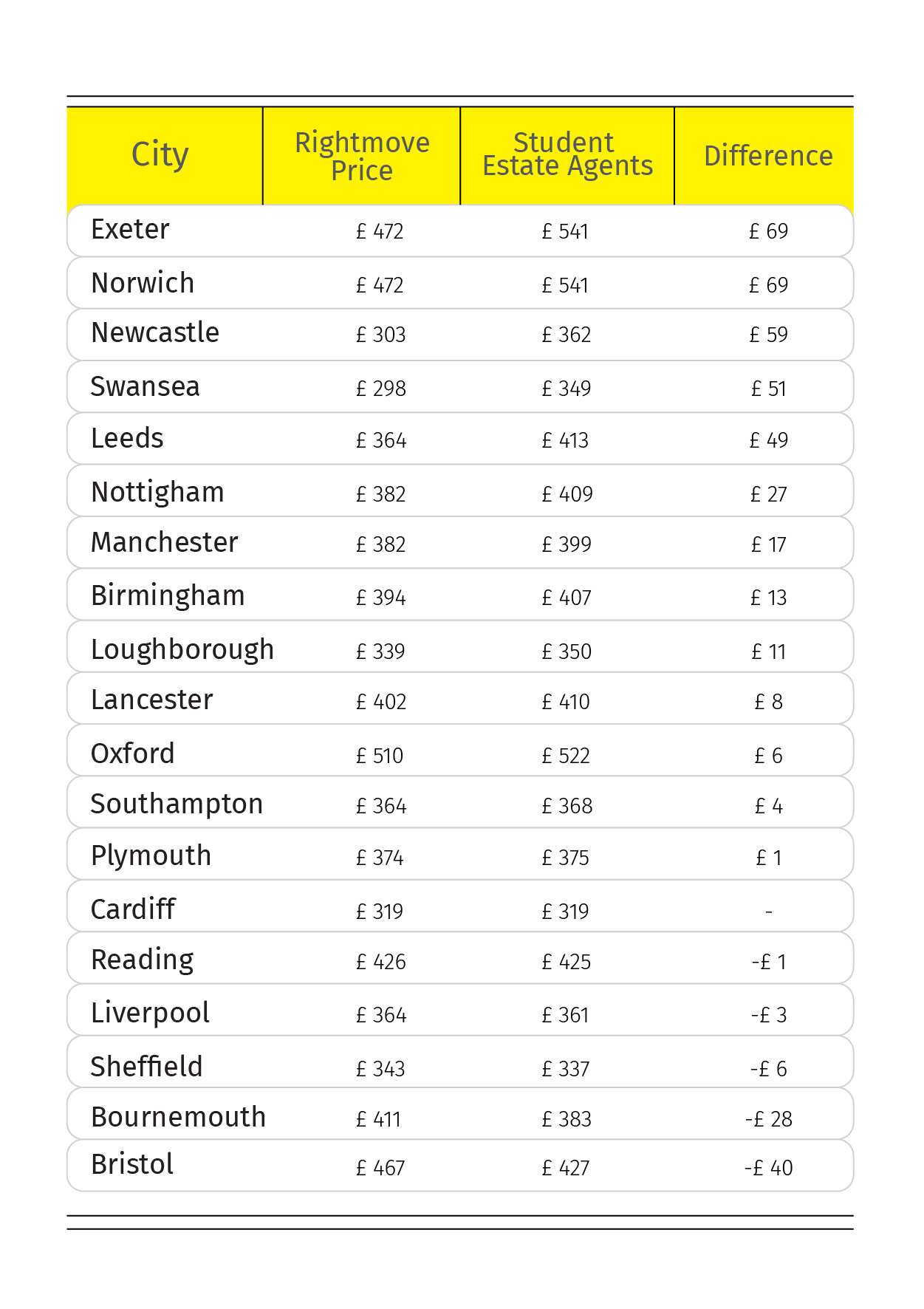 In total, Mojo found that rents were at least £10 greater on student letting agents' websites than property portals in nine cities.
Houses on Rightmove in Bristol and Bournemouth, however, were actually £40 and £28 more expensive that on student letting agents' websites respectively. Nevertheless, these two cities seem to be anomalies, with the majority of student letting agents charging higher rents than local estate agents using Rightmove.
The broker also found the most expensive areas to rent a student property in the UK.
Most expensive student areas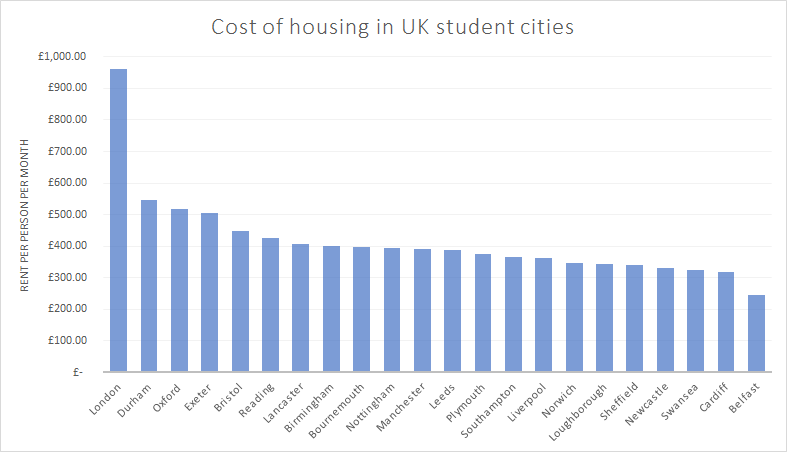 Unsurprisingly, London came out on top, with students in the capital paying £961 per month on average. Next in line was Durham, at £546 a month. Oxford and Exeter were close behind, at an average of £519 and £507 respectively.
Belfast boasts the cheapest student houses, at less than half the price of the top three – an average of £246 per month. Students in Wales can also take advantage of affordable rent, with the average monthly price in Cardiff sitting at £319, while Swansea's is £324.
University or private halls?
Mojo compared the price of living in halls owned by the university, compared to those that are privately owned.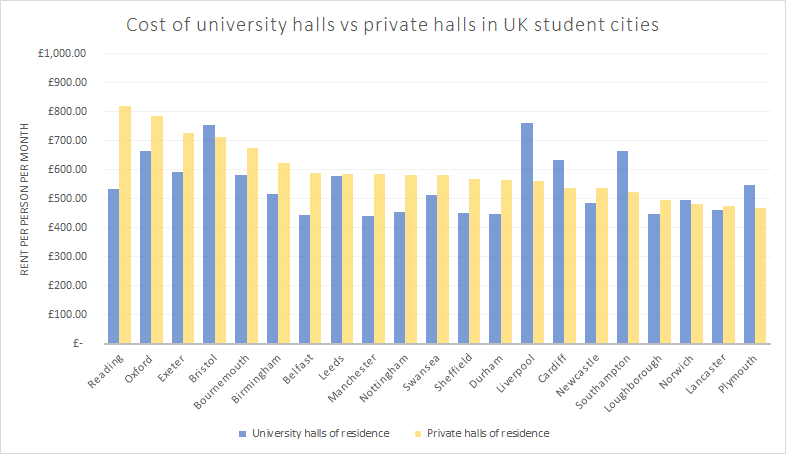 It found that most private halls of residence are more expensive than university-owned halls. In Reading, the average room in private accommodation will cost students £286 more on average than the university's halls.
In fact, private accommodation costs up to three times more than university halls in eight other cities. However, in some locations, renting a room owned by the university will not be your cheapest option.
In Liverpool, Southampton and Cardiff, students can rent a room in private accommodation for an average of £100 less per week than university halls.
Top tips for student accommodation
Mojo has put together some top tips for students, following the results of its findings:
Look for a property on a portal, as well as a student letting agent, to find the best deal possible.
If you find a property that you like on an agent's website, then double-check whether it's listed on a portal, as you can sometimes find the same property for less.
If you find your perfect property through a letting agent, take note of its features and run those through a portal's search feature – you could find a cheaper property with the same specifications.
If you want to stay in halls, make sure to compare the price of private and university accommodation, as the price varies greatly depending on what kind of room you're looking for.
Related Posts