Britain's Most Beautiful Garden winner announced!
Britain's Most Beautiful Garden winner announced!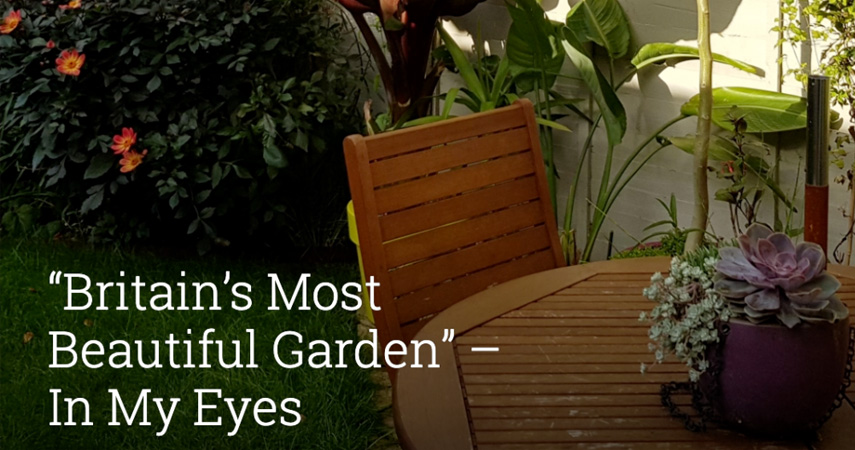 Thanks to everyone who entered our Britain's Most Beautiful Garden competition – we have loved reading through your entries, and so has Ellen Mary!
It's never an easy decision to make when you're judging something as subjective as 'beauty', but we set you all three key questions to answer and we received some thoughtful responses.
Having taken some time to think carefully through her options, Ellen has now crowned the winner:
Seeds to Recovery
(www.seedstorecovery.com/2019/10/06/britains-most-beautiful-garden-in-my-eyes/)
Ellen's comments: "This garden is a fantastic example of what can be achieved in a medium-size space on a housing development. Who would expect to see tree ferns, banana plants and a tropical pond edged with carnivorous plants and a lush green lawn?
"Solange has expressed her love for her father and memories of Mauritian holidays with the garden plants, clearly showing why she loves to be in her garden and how this helps with her own wellbeing.
"Choosing the pond as the favourite feature also shows how important wildlife is for the whole garden. This garden wins the title of Britain's Most Beautiful Garden because it incorporates many surprises, year-round interest and has wellbeing at the heart of it."
Congratulations, Solange!
Ellen has also commended the following blogs for their fabulous entries:
Plants Bulbs Seeds
(www.plantsbulbsseeds.com/why-i-love-gardening-britains-most-beautiful-garden/)
"A lovely garden showing how Louise soon caught the gardening bug from just planting bulbs, to begin with. The development of this garden makes it a special place with a microclimate enhanced with the use of some tall, special trees. An 80-year-old wild plum tree makes for an interesting favourite feature and being eco-friendly makes the garden a special place."
Vivre Le Reve 
(www.vivrelereve.co.uk/just-landlords-is-looking-for-britains-most-beautiful-garden/)
"This is a garden for the enjoyment of everyone, including children and pets, meaning all of the space is used for the family. A great example that it can be done! From building dens around the favourite feature, a Magnolia Tree, to allowing time to 'play' with plants, making this garden an all-round magical family place."
The Just Landlords team has enjoyed every moment of this competition. We hope to have the opportunity to revisit Britain's Most Beautiful Garden in 2020 and open up the challenge once again.
We would also like to say a special thank you to Ellen Mary for all of her help and expertise. If you would like to hear more from Ellen and her horticultural tips, we highly recommend checking out the Wellbeing Studio on her website.
Disclaimer: The opinions and views expressed in the above article are those of the author only and are for guidance purposes only. The author disclaims any liability for reliance upon those opinions and would encourage readers to rely upon more than one source before making a decision based on the information.
Related Posts