High Level of Remortgaging Driven by Record Low Interest Rates
Home » Uncategorised » High Level of Remortgaging Driven by Record Low Interest Rates
High Level of Remortgaging Driven by Record Low Interest Rates
This article is an external press release originally published on the Landlord News website, which has now been migrated to the Just Landlords blog.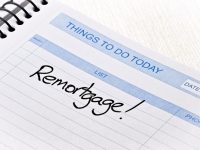 The high level of remortgaging recorded in January was driven by record low interest rates, believes the British Bankers' Association (BBA), following its release of the latest High Street Lending Data.
The figures show that consumer borrowing through overdrafts, loans and credit cards rose at an annual rate of 6.7% in January.
Gross mortgage borrowing totalled £13.8 billion in January – up by 6.3% on the same period last year.
Remortgaging approvals in January were up by 15.7% on January 2016, an increase that was driven by historically low interest rates.
Net mortgage borrowing rose by 2.4% on an annual basis.
Household borrowing
Gross mortgage borrowing of £13.8 billion in the month of January was 6.3% higher than in January 2016. Net mortgage borrowing was 2.4% higher in January than a year ago, while consumer credit annual growth increased to 6.7% in January, despite weaker retail sales.
Growth continues to be primarily driven by personal loans, as credit card growth slowed for the third consecutive month, reports the BBA.
Mortgage approvals
House purchase approvals, at 44,657, were 2.5% lower than in January last year, but 2.5% higher than in December and above the 2016 monthly average of 41,320.
Remortgaging approvals of 28,862 in January were 1.57% higher than those recorded in January 2016 and, although lower than December's approval numbers, are still above the 2016 average of 25,987.
Other advances were 15% higher than a year ago and the highest recorded since January 2014.
Deposits
Annual growth in personal deposits slowed slightly in January, to 4%. Non-financial company deposits rose at an average annual rate of over 8% in 2015, but fell back in 2016 to an average annual rate of 5%. They are currently growing at an annual rate of 3%.
The Managing Director of Retail Banking at the BBA, Eric Leenders, says: "The New Year saw homeowners make the most of historically low interest rates, by taking advantage of competitive remortgage offers. Nearly 29,000 of these deals were approved last month – 16% higher than January last year."
Related Posts