Tenants with Pets Facing Rent Hikes after Fee Ban
Tenants with Pets Facing Rent Hikes after Fee Ban
This article is an external press release originally published on the Landlord News website, which has now been migrated to the Just Landlords blog.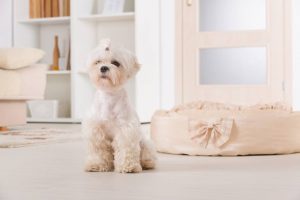 Private tenants with pets could face rent hikes after the letting fee banis introduced on 1stJune 2019, according to real estate firm JLL.
The investment management company believes that tenants with pets could suffer rent hikes of as much as 3-4% per week once landlords and letting agents are banned from charging fees.
The warning comes after JLL recorded a 25% increase in the number of tenants with pets over the past five years.
Lucy Morton, the Head of Residential Agency at JLL, says that landlords and agents typically charge a higher deposit to cover any damage and additional cleaning required from having animals in a property. However, this will be more limited once the Government introduces its five-week cap on security deposits.
She explains how tenants with pets may be affected: "With the five-week deposit cap, landlords may be deterred from letting to tenants with pets or forced to charge higher rents to cover any potential losses. The increase would depend on the rental value, but we anticipate approximately an additional 3-4% per week.
"For example, a rent of £700 per week would potentially rise to £725 per week to make up for the shortfall."
Morton looks at the situation from a landlord's perspective: "With a host of regulations that landlords must adhere to, as well as the changes to mortgage interest relief, the fee ban and five-week deposit cap is adding yet another cost.
"This gives landlords no choice but to increase rents in order to see a return on their investment, and they will need to hold firm on asking or renewal prices."
She adds: "However, tenants will only be happy to pay more if the property is of high quality and well-presented. It's the properties in the best locations offering quality amenities that will attract tenants willing to pay a premium."
Landlords, how will you let to tenants with pets following the fee ban?
Related Posts