What is UK holiday home insurance?
UK holiday home insurance provides cover for risks that may not be included in a standard home insurance policy. Your property may see lengthy periods where it sits empty if it is mostly used during the holiday season. This can be the case whether you use the property yourself or let it to holidaymakers. You may find our specialist holiday home insurance policy suitable for your property's needs.
How is our UK Holiday Home Insurance different?
We have developed our policy to provide cover against a host of perils, including:
Accidental damage
Malicious damage by your tenants
Theft by your tenants
This cover can also be suitable for your home when it's empty for certain periods whilst you are living or working away. You can get in touch with our team to discuss this further.
Our Holiday Home Insurance can be paid by interest-free Direct Debit over 12 months – click here to learn more.
Policy limits and exclusions may apply, please see our Holiday Home Insurance policy wording for a full list of covers, including additional cover provided as standard.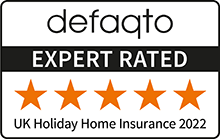 What the insurance experts say
Our UK Holiday Home Insurance policy has been awarded a 5 Star rating by Defaqto, the independent analysers of financial products. The award indicates a comprehensive level of insurance to help protect your property. We believe it is important to provide properties with suitable cover, so we're proud to maintain Defaqto's highest rating.
Do I need holiday home insurance?
If you own a second home that is only used occasionally, then standard home insurance might not be suitable. If you use it as a holiday home, this may require different cover. Our holiday home insurance solution has been created with this in mind, offering a comprehensive level of protection. 
If you are letting the home to holidaymakers, you might want features such as our malicious damage by tenants and theft by tenants cover. We also offer cover for loss of rent if the property becomes uninhabitable following insured loss or damage. This and more are provided as standard with our UK Holiday Home Insurance.
What does holiday home insurance cover?
Our product includes covers to help protect your holiday house against a range of perils, from the basics of FLEE (fire, lightning, earthquake, and explosion) to property damage caused by incidents such as break-ins and theft cover. Both buildings insurance and contents insurance are available.
To provide a comprehensive level of cover, we've included protection for risks that other holiday home insurance policies might not offer or some insurance providers may charge extra for, such as malicious damage and theft by tenants.
Our holiday home insurance also includes property owners' liability cover and occupier or landlord's liability cover.
Policy limits and exclusions may apply, please see our holiday home insurance policy wordings for full terms and conditions.

Our frequently asked questions
Please note that these frequently asked questions are not a substitute for the policy wording. For full terms and conditions please see the policy documentation.

What is a holiday home let?
The definition of a holiday home let can differ from policy to policy. Our policy wording states that a holiday home let is where the premises is let to any third party, other than family and friends. However, our policy does also provides cover when the holiday home is used by family and friends.
How is holiday home insurance different from standard home insurance?
Standard home insurance can protect a main residence that is permanently lived in. However, it might contain a clause stating that cover is not provided if uninhabited for a certain length of time or longer. Holiday home cover such as ours is created with this in mind, allowing for the home to be left unoccupied. We understand that you might only visit occasionally or you may have gaps between holiday let tenants.
What types of holiday homes do you cover?
Our holiday home insurance policy offers protection for a range of holiday home uses. For example, if you rent out your holiday home and need holiday let insurance or own it for personal use and invite friends and family to stay, our cover may be suitable for your needs. We provide quotes for various property types, whether it's a terraced holiday cottage or a property with extra external amenities, such as swimming pools or tennis courts.
Does holiday home insurance protect rental holiday homes?
Whether the holiday home is for personal use, including for friends and family, or let to holidaymakers, our insurance is available. It includes renting-specific covers, such as malicious damage by tenants and loss of rent.
What is holiday home buildings insurance and holiday home contents insurance?
Insurance policies for holiday homes such as ours may split the covers into two categories – buildings and contents. Buildings cover is there to help with the cost of repairing or rebuilding your property if it is damaged. Contents cover is there to help with the cost of repairing or replacing furniture and household goods.
Does insurance for holiday homes protect rental income?
Insurance for a holiday home may provide certain covers to help if your rental income is affected. For example, our holiday home insurance cover includes loss of rent. 
When you have paying guests and your holiday home becomes uninhabitable,, they may have to find alternative accommodation. You may be able to claim for the amount of rent lost due to this. We may also be able to cover the cost of alternative accommodation for your tenants.
Loss of rent cover is different to rent guarantee insurance, which is there to help landlords financially while you are lawfully seeking repossession of your property due to rent arrears.
What can I do to keep my holiday home safe while it's empty?
Like with any empty property, a holiday home might attract burglars if it becomes apparent no one has visited for a while. Taking steps to make the property appear in use might help you to avoid such issues. Take a look at our guide for some tips that may help.
You may also want to consider having the holiday property professionally drained during colder months to help avoid water damage caused by a burst pipe.
Having suitable home insurance for your holiday property while it is empty can help provide peace of mind. If it might be empty for long periods, you may want to consider unoccupied property insurance.
Do you offer cover for legal expenses?
Legal expenses for issues such as property owners' liability and liability as occupier or landlord are included with our UK Holiday Home Insurance policy as standard. The full list of covers can be found in our policy wording.
Can I insure more than one property with you?
We are able to place cover on an entire portfolio if you wish to keep your insurance all in one place. Whether you own holiday homes or you have a mix of holiday homes, tenanted properties and unoccupied properties, we may be able to help.
If you have a portfolio consisting of up to 100 properties, you can obtain a quote online. If your portfolio has over 100 properties, you can obtain a quote by emailing enquiries@justlandlords.co.uk. We may be able to offer you one policy to suit your portfolio's needs.
How can I make a claim on my holiday home insurance?
You can fill out our claims form by visiting our dedicated page. You can either submit the form online or download and print a copy to send to our Claims Department through the post.
Not the right product?
View our alternative insurance products below:
Other links
Landlord News

– Our provider of the latest industry updates.



Gallagher

– Just Landlords is a trading name of Arthur J. Gallagher Insurance Brokers Limited. Part of the Arthur J. Gallagher & Co group of companies.