Fire safety tips for your tenants this Christmas
Fire safety tips for your tenants this Christmas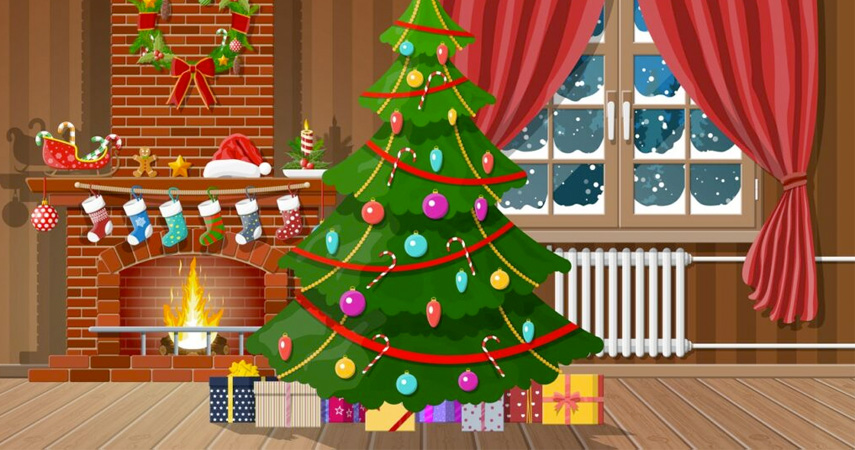 'Tis the season to be jolly, which, as far as we're concerned, involves eating comforting food, putting on festive music and decorating the house. Tinsel-covered trees and twinkling lights all help to set the scene for a cosy Christmas, but you should make sure your tenants are bearing fire safety in mind.
According to the Government's fire statistics, there were 86 dwelling fires alone in December 2018, so we want to make sure landlords and tenants are bearing fire safety in mind, this holiday period!
Candles can be an accident waiting to happen
As tempting as it can be to create some ambience and fill the room with seasonal scents, candles are a naked flame and are a massive fire risk. It's all too easy to forget to blow them out before going to bed.
Battery-powered tea lights are a great alternative to suggest to your tenants!
Fairy lights might start a fire
Check that the wiring is all intact and that any strings of lights are in working order. If they are powered by being plugged in, make sure that the plug itself shows no signs of damage.
Also, remind your tenants not to overload the sockets. If they do see any signs that something might not be right with the electrics, encourage them to let you know as soon as possible, so you can call in an electrician.
Cooking the Christmas roast
We've all had our culinary disasters where we've left a tray in the oven for much longer than needed… Especially on Christmas day when you're trying to impress the in-laws with a scrumptious feast, it can be all too easy to leave something baking whilst you all tuck in at the dinner table.
Suggest that your tenants create a list of all the timings for what they have planned and set alarms on their phone. If they have a smart speaker system set up, this also works great to ensure that whatever room you're in, you will hear that alarm go off.
Cigarette-smoking relatives
You may have let your property to a non-smoking tenant, but consider giving them a kindly reminder about visitors at Christmas. Having a smoker visit for the day will not leave any permanent bad smells in your let, but for the sake of fire safety, remind them if there is a clause in the tenancy agreement that prevents cigarettes/cigar usage in the property.
Caring for a real Christmas tree
Tenants should keep their tree away from any heat sources, such as fireplaces and heaters. This can dry out the tree, making it more susceptible to catching fire if an issue does break out elsewhere.
Trees kept in a stand should be topped up with water to help prevent them from drying out as quickly. It may also be tempting to use the tree as firewood once it is done with, but the Fire Service website highlights that this is not a good idea. It should be taken to a recycling centre or your tenants should look for a community pickup service.
Chestnuts roasting on an open fire
During these chillier winter months, tenants in properties with fireplaces will surely be making the most of them. Just remind them of any terms stated in the tenancy agreement in regards to usage of this feature. Advise them to keep a fire extinguisher close by, just to be prepared and for peace of mind.
Landlords, remember that under the Smoke and Carbon Monoxide (England) Regulations 2015, you are legally required to install at least one smoke alarm on every floor in their properties. Make sure to check they are all in working condition and do your bit to keep your tenants safe this Christmas!
Disclaimer: The opinions and views expressed in the above article are those of the author only and are for guidance purposes only. The author disclaims any liability for reliance upon those opinions and would encourage readers to rely upon more than one source before making a decision based on the information.
Related Posts