Property maintenance examples and tips for homeowners
Property maintenance examples and tips for homeowners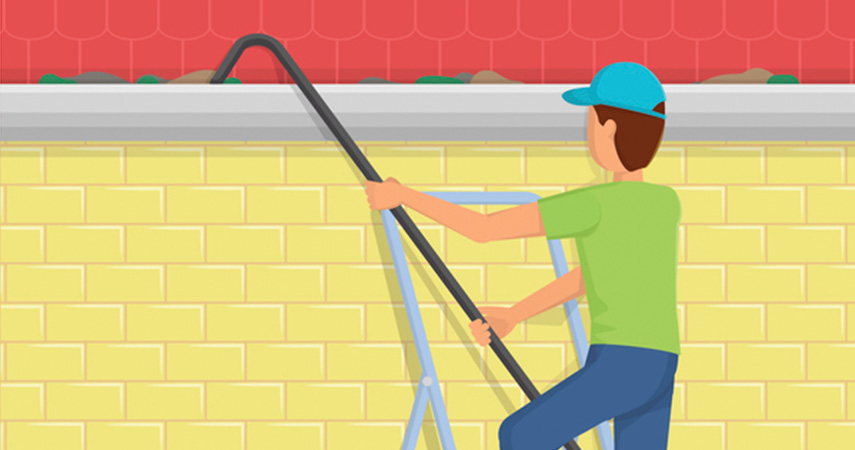 Depending on the property type, homeowners may be required to perform a range of property maintenance checks.
Regular property maintenance can help keep homes in good repair. Get to know which areas require attention, as well as how regularly they should be checked.
What is property maintenance?
There are many factors to consider when looking after a home, especially when you are not living there yourself. Property maintenance applies to the upkeep of the home, both internally and externally. As well as the structure of the building, fixtures and fittings should also be maintained.
Internal property maintenance
Check all radiators are working
Turn the heating on and the thermostat up to check that the radiators are working. Go around the property and check the radiators to make sure they are all heating as they should, and that there are no leaks or cold patches.
If there are cold spots on a radiator or it isn't heating up, it may need bleeding to release any trapped air.
Test carbon monoxide and smoke alarms
A monthly check can help you spot when the batteries need replacing or even the alarm itself.
Arrange checks for gas appliances
An annual gas safety check can help to keep your home safe. A gas appliance that has been fitted incorrectly or is in need of maintenance can produce carbon monoxide.
An unsafe appliance might also lead to a gas leak, a fire, or an explosion, which is why the Gas Safe Register recommends checks once a year by a Gas Safe registered engineer.
Review insulation and check for draughts
Check the seals on windows and doors are intact to help keep the heat in and prevent draughts. Loft insulation can also make a big difference to your heating bill. It's worth reviewing that there is enough and that it has been installed correctly.
Insulation is also important for pipes to help prevent them freezing during cold weather, which might lead to them bursting.
Improvements such as these can also help to improve the energy efficiency of your home.
Boilers should be at the correct pressure and should be topped up as necessary. Sufficiently wrapping tanks can also help keep hot water insulated.
It's a good idea to have the boiler checked before the start of winter to catch any issues before the temperature drops and the property is without heating when it's most needed.
Examine the condition of your attic
View the structure of your property internally by going into the attic. Look for signs of leaks or creatures nesting in there.
External property maintenance
Drainpipes and gutters can benefit from being cleared regularly, especially after windy weather or during the autumn when the leaves drop off the trees.
This can help to avoid blockages and damage to the roof. Any issues that might cause an overflow are best avoided, as water running down the outside of the building could lead to a build-up of damp.
Examine the condition of the roof
Carefully examine the roof for missing, broken, or loose tiles. Any storms can make issues worse, while heavy rain could cause leaks. If there are any trees growing near the property, be sure to cut away any overhanging branches.
Take a look for nesting insects or birds. Any areas weakened by rot could allow access to small animals.
Garden care can be just as important as internal property maintenance. Remove weeds, stray leaves, and debris that have blown into the garden.
If any branches on trees have grown too close to the building or fencing, you might want to trim them back. Otherwise, they may cause a problem if there are strong winds or a storm.
Check paved areas and driveways for cracks. If the property has a chimney, check the stack for any cracked cement or split pots.
Confirm windows and doors remain secure
Ensure all windows and doors can open and close. Check that the locking mechanisms are in working order.
Keep an eye out for broken panes of glass, rot on wooden surfaces, and any areas that need re-sealing. Suitable windows and doors can impact the energy efficiency of your property.
Check the condition of water pipes
If you don't know where the stopcock is, it can save you some trouble in an emergency by finding out now. Make sure that it's operational and that you can quickly turn off the water supply when needed.
Have a look at water meter readings if there is one in your property. A sharp rise in usage will usually mean that water is escaping from somewhere.
Seasonal property maintenance
You may want to inspect the property for needed maintenance at different times of the year, as changes in weather conditions can make a difference. Here are some season-specific property maintenance tips:
Spring property maintenance tips
Spring can be a good time to cut back branches on fruit trees, before the leaves grow back too thick and fruit starts to appear.
With the temperature warming up after winter, it is also worth checking for rotting wood. Peeling paint is one sign that can indicate an issue with rot.
Summer property maintenance tips
A garden issue to look out for is Japanese knotweed. The plant can cause damage to the building. It can grow throughout the year, but it is easier to spot in the summer due to the small white flowers that bloom. For more information, check out our article on spotting Japanese knotweed.
Summer is a good time to perform heating-related maintenance. If anything is broken, it's best to get it fixed while the weather is warm and heating isn't as necessary.
Autumn property maintenance tips
During the months when leaves fall the most, you might want to keep on top of clearing the gutters. Adequately disposing of fallen foliage can also help prevent pests from moving in and going unnoticed.
As it's not the easiest or safest job, consider checking the roof condition while you're clearing the gutters to save multiple trips up there.
Winter property maintenance tips
Keep the heating on at a minimum of 15°C to help prevent water from freezing in the pipes, which may later burst. If the property is empty, you may want to have it drained down.
Take advantage of dry weather to air out the rooms by leaving windows open for a few hours. We may want to keep windows and doors shut to keep the heat in, but this can lead to condensation, which can cause damp conditions perfect for mould growth.
Property maintenance tips for landlords
Inspect alarms when tenants move in
For rental properties, landlords are responsible for checking smoke and carbon monoxide alarms are working at the beginning of a new tenancy. However, after that, it's considered the tenant's responsibility to test the alarms.
There should be at least one smoke alarm installed on every storey of the property and a carbon monoxide alarm in any room containing a solid fuel burning appliance.
Have a qualified engineer perform gas safety checks
A Landlord Gas Safety Record can be obtained from a Gas Safe Registered engineer after performing an annual check. Landlords are legally required to give a copy of this record to tenants within 28 days of the gas safety check. New tenants should be provided a copy at the start of the tenancy.
Inspect the property throughout the year
Find suitable insurance for your rental property
As a landlord, you will want to find suitable cover for your rental property. Despite your best efforts, unexpected costs can arise. Suitable landlord insurance can help protect your investment and give you peace of mind.
Our Landlord Insurance has been rated 5 Star by financial ratings business Defaqto for offering comprehensive protection. It includes 40 covers as standard, including, but not limited to:
Weight of snow
Escape of water
Accidental or malicious damage
Theft or attempted theft
Falling trees, branches, lampposts, and telegraph poles
Property maintenance tips for tenants
As mentioned in our seasonal property maintenance tips, it can help prevent frozen and burst pipes. As a precaution, we suggest leaving the heating on at a minimum of 15°C.
Exchange contact information
Having up-to-date contact details is vital. Landlords and letting agents should encourage tenants to get in touch when there are problems with the property. The longer an issue is left, the more it might cost to fix.
Equally, tenants will want to be kept in the loop when it comes to property maintenance and repairs. Landlords and letting agents need to provide tenants with 24 hours' notice before visiting.
Consider contents insurance
Risks such as flooding can cause damage to personal belongings as well as the building. Tenants might want to take out contents insurance to protect furniture and other items.
More tips and information for property owners
If you're looking for more information about owning a property, you can find more articles on our blog. We also cover a range of topics relating to landlords and lettings.
Disclaimer: The sole purpose of this article is to provide guidance on the issues covered. This article is not intended to give legal advice, and, accordingly, it should not be relied upon. It should not be regarded as a comprehensive statement of the law and/or market practice in this area. We make no claims as to the completeness or accuracy of the information contained herein or in the links which were live at the date of publication. You should not act upon (or should refrain from acting upon) information in this publication without first seeking specific legal and/or specialist advice. Arthur J. Gallagher Insurance Brokers Limited trading as Just Landlords accepts no liability for any inaccuracy, omission or mistake in this publication, nor will we be responsible for any loss which may be suffered as a result of any person relying on the information contained herein. FP671-2022
Related Posts